The spray Rifocine® was used as an antimicrobial oral rinse to treat local bacterial infections. It contained the antibiotic rifamycin (1%) which is a broad-spectrum antimicrobial product used in large-scale worldwide. It was considered as a 'Wonder Drug', being highly effective, safe and largely prescribed.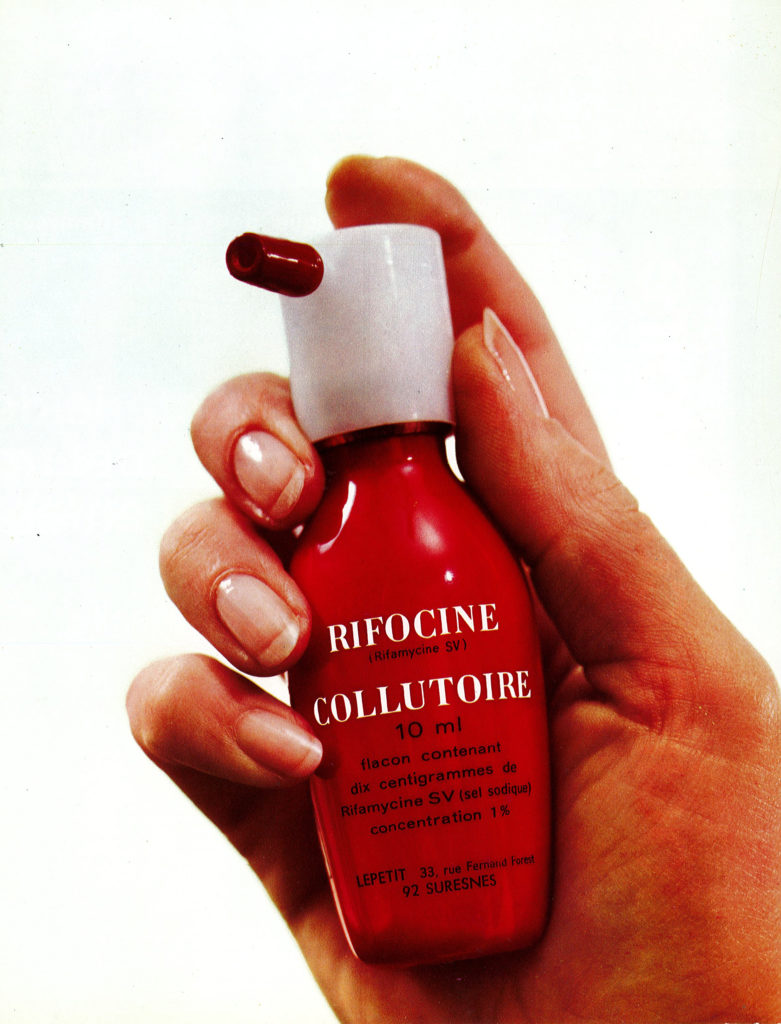 Rifamycin antibiotics represent a class of fermentation products produced by Streptomyces species (S. mediterranei in particular). Rifamycin can be produced also through an aerobic fermentation by Amycobacterium marinum. Rifamycin SV monosodium belongs to this large group of macrocyclic compounds (ansamycins), together with rifamycin B, rifaximin and other analogs. It is a potent antimycobacterial drug, acting as an inhibitor of DNA-dependent RNA-polymerase. The first rifamycins (A-E) were discovered in 1957, followed by rifamycin SV in the early sixties (1963) which has been used for topical and parental therapy. The potent activity of rifamycin SV toward Mycobacterium tuberculosis contributed to its wide use at that time. The drug has been largely sold to treat microbial infections, including surgical site infections, for prevention of post-caesarean wound infection. The drug showed also anti-inflammatory and immuno-modulatory activities useful for the treatment of mucosal and liver inflammation. The medical applications of the macrocyclic compound (C37H47NO12) were large.
Later, interestingly rifamycin SV (and analogue rifabutin) has been shown to bind to the transcriptional repressor BCL6 (B-cell lymphoma 6) which is a master transcription factor essential for the regulation of immune regulatory cells and lymphoma development.