Since the 1970s, the drug Nozinan is used to treat psychotic disorders, such as schizophrenia and other schizoaffective disorders. It is considered a safe and effective first-generation neuroleptic used in psychiatry for over 50 years. It is also used clinically to treat agitation in patients with acquired brain injury, and for a variety of distressing symptoms in palliative and end-of-life care. Its sedative properties have been largely characterized.
Three formulations were proposed: a classical oral form using tablets (2 mg), suppositories containing each 10 mg of active principle, and a solution (4%) to deliver drinkable drops (1mg per drop). The oral form remains one of the most commonly used antipsychotics today. It can be also administered on a 'when required' basis, via subcutaneous injection.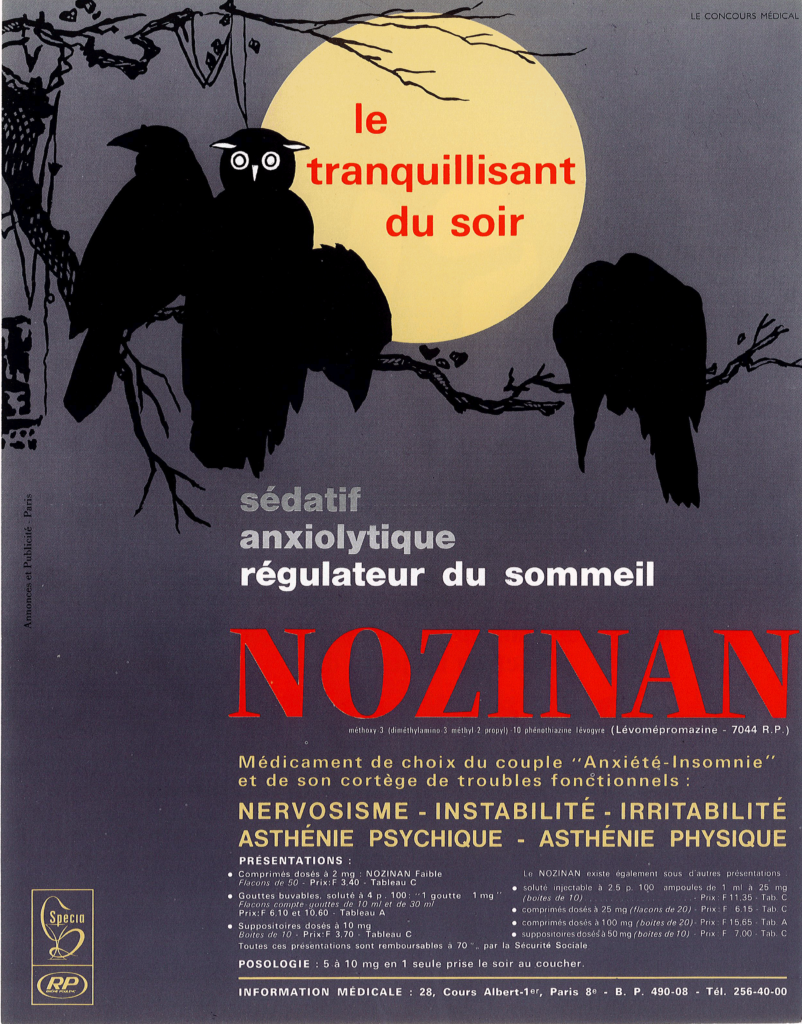 The active principle of Nozinan® is the phenothiazine derivative levomepromazine (also named methotrimeprazine), a compound well-known for its antipsychotic, analgesic and sedative effects. It can also be used in alleviating bronchoconstriction, as a preoperative sedative, in terminal pain control and postoperative analgesia, and in the control of nausea. The advert for Nozinan highlighted the benefit of the product to regulate sleep disturbances, notably in patients with post-traumatic stress disorders and insomnia. It was a convenient sedative drug often used for the treatment of depression, anxiety and insomnia.